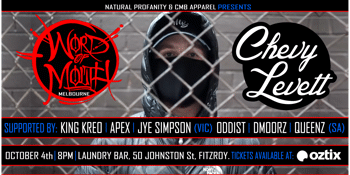 Natural Profanity & CMB Apparel Presents: Word of Mouth Melbourne with Chevy Levett
Chevy Levett
Laundry Bar, Fitzroy (Fitzroy, VIC)
Friday, 4 October 2019 8:00 pm
Word of Mouth is a community Hip Hop event that showcases local artists. This event gives familiar names & also new comers the opportunity to come together & perform their music live to their fans, family & friends. Founded in Adelaide, this will be the 5th Word of Mouth event & second to be held in Melbourne 2019.

Chevy Levett will be supported by local artists: King Kreo, Apex & Jye Simpson. Joining the local Melbourne support acts will be Adelaide based artists: Oddist, Dmoorz & Queenz. Local DJ for the evening will be Jazzii on the Beat.

Friday 4th October 8pm, Laundry Bar. 50 Johnston St, Fitzroy. 18+ Event.

VIOLENCE & VANDALISM WILL NOT BE CONDONED!