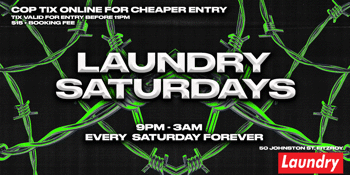 LAUNDRY BAR
LAUNDRY SATURDAYS
Laundry Bar, Fitzroy (Fitzroy, VIC)
Saturday, 27 August 2022 9:00 pm
Melbourne's tru home of hip hop and rap.
9pm - 3am EVERY Saturday.
**Tickets valid for entry before 11pm
Cop your presale tix now via the link. Spread the word.
PLZ NOTE>>>
TICKET HOLDERS MUST ENTER BEFORE 11PM.
YOUR TICKET WILL BE INVALID AFTER THIS TIME.
ALL THE MORE REASON TO SKIP THE LINE + GET DOWN EARLY.
STRICTLY 18+ NO ID NO ENTRY
[Laundry Bar is an inclusive venue. Racist, sexist, ableist, homophobic or transphobic behaviour or attitudes will not be tolerated. Please see our staff or security if someone is making you uncomfortable.]
[
www.lndry.club
]
[ IG > @thelaundrybar ]
[ SNAPCHAT > @thelaundrybar ]
[ SPOTIFY >
goo.gl/QJWpgC
]
[SOUNDCLOUD > laundrybarfitzroy ]
[VIP BOOTHS / GUESTLIST] DM US